Stateline Fireworks offers volume buyers free BONUS merchandise and a 3% cash discount for all purchases over $500.00. The graph below illustrates free BONUS merchandise applied to all in store/off the store shelves piece purchases. Customers are required to register at our store for this program in order to keep track of their purchases throughout the year. The free BONUS merchandise can increase, as long as what the customer purchases, meet the certain free BONUS merchandise . Volume buying program categories are determined by your purchase prior to free merchandise.
Your account can not be used by anyone else and you must be present in order to use the program. Program can be used for a group buy, as along as the account holder is present at time of sale. The free Bonus merchandise you have achieved is only good for one calendar year starting on January 1 and ending on December 31.
Customer must mention the Stateline Volume Buying Program at each time when they checkout or place an online order in order to receive the free BONUS merchandise , otherwise the customer will not benefit from this program.You can not use this program for case sales or *pre-packaged assortments, but your case sale purchases and *pre-packaged assortments can be applied to increase your volume buying program. * Tray or Boxed pre -packaged assortments, Fuse, raffles, and Cobra firing Systems do not qualify with this program.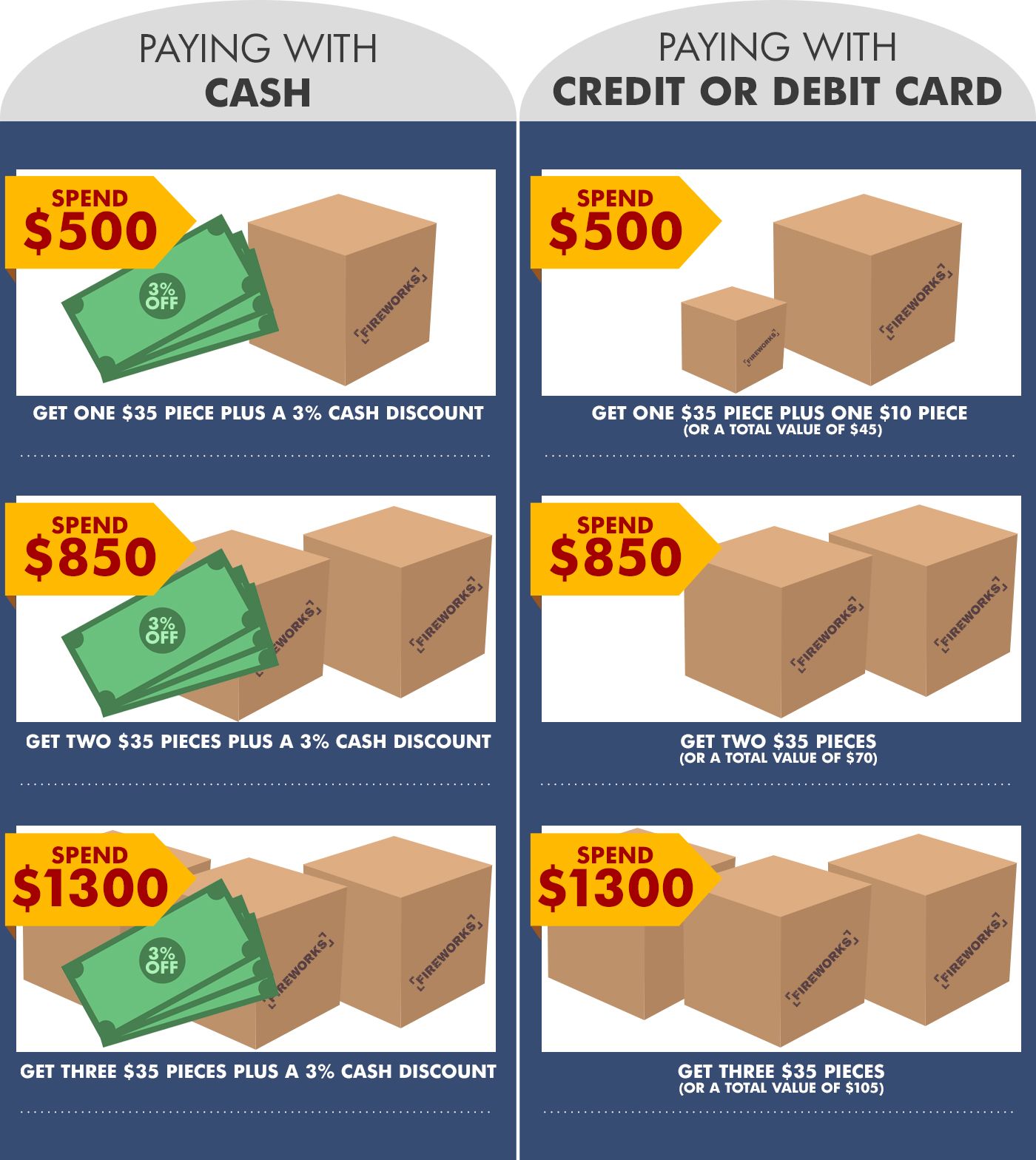 Multiple purchases throughout the year can be combined and may increase free BONUS merchandise levels for that calendar year only. Graph does not apply to case sales.
Stateline Fireworks Case Discounts

Multiple purchases throughout the year can be combined and may increase your wholesale discount levels that calendar year only.
Minimum purchase for case sales (After your discount) is $700.00.

This chart only applies to FULL CASE SALES and does not apply to individual items purchased from our retail store. Stateline fireworks gift cards can not be used with the case/ wholesale discount program.

30% & 40% discounts levels are entitled to an additional 3% discount if paying for ENTIRE wholesale order in cash. Case sales take at lease 72 hours to process due to the items must be shipped from our warehouse to the store for pickup.
There are no case sales between June 27th to July 6th.
Purchasers (with the exception of military personnel) must be over 21 years of age!